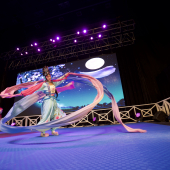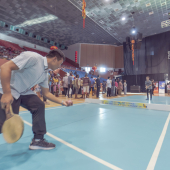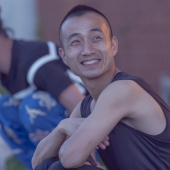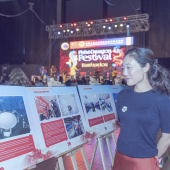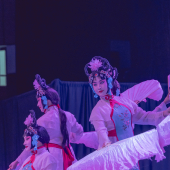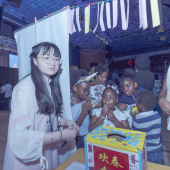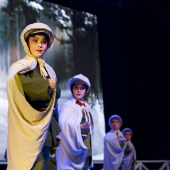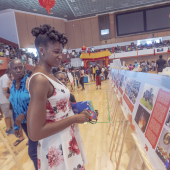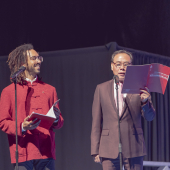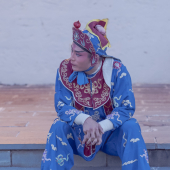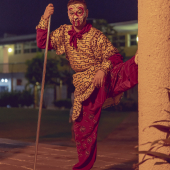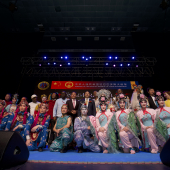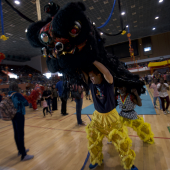 Chinese culture was widely displayed recently in Bridgetown Barbados during the sixth annual Fish and Dragon Festival.
In recognition of the Chinese New Year- Year of the Rat, hundreds gathered at the Garfield Sobers Sports Complex, Wildey, St Michael to enjoy and learn more about Chinese Culture.
During the three hour event, there were performances by the spectacular Performing Troupe from China, Chinese children born or living in Barbados and Cultural Ambassador Stedson 'Red Plastic Bag' Wiltshire. Ambassador Yan Xiusheng said it was a pleasure to be apart of the festival for another year, in collaboration with the Central Bank of Barbados and welcomed the initiative to continue to push the Chinese culture on the island.
"Happy Chinese New Year to my Bajan friends. It is a pleasure to be here with you. Six years ago the embassy of the People's Republic of China came up with this initiative to have the Fish and Dragon festival with the Central Bank of Barbados. And for the last six years through a joint effort, we have made this festival into one of the most popular festivals in Barbados to display Chinese culture to Barbadians and to make this a platform for Chinese and Barbadian People to exchange their culture of learning and to exchange ideas to every civilization. Culture is enriched by future learning," he said.
The ambassador stressed that the world was made colorful because of different cultures and reiterated the fact that Barbados and China respected each other's cultures and civilization.
"Barbados and China are far away, but we are close in value and venture. Forty-three years ago our countries founded diplomatic relations, since then our two countries enjoyed mutual understanding and our political exchanges are frequent. In the field of agriculture, medical, sports, culture and the trade areas, are exchanged frequently. I hope during the new year we can continue to work together with the Barbados government to promote our countries to a higher level. I hope our relations can continue be prosperous," he added.
The ambassador said he marveled at how the festival continued to grow and the interest show byre, to exchange culture with Chinese people. This is one the Barbadians.
"Every year more and more Bajan friends come out to enjoy the festival, to learn Chinese Culture on the most important platforms for Bajan people to know China's culture and the people," he added.
Minister of Creative Economy, Culture and Sport John King echoed the ambassador's statements, saying her believed the festival was a 'fantastic idea'.
"When you look outside, you see a huge number of people all colors and classes, together in harmony. This is the power of culture. At man's core we share common values regardless of where you are. Those are the things that we want to highlight, those are the things that as a Ministry responsible for culture that we want to bring to the table so that when we start to talk to people in terms of corporations, they aren't just sterile business agreements, but that they are agreements based on mutual friendship, based on mutual respect, cooperation and also based in us being a human family, looking for the very best in ourselves," he added.
The minister said he believed this initiative was a chance to break down barriers and give persons a better understanding of different cultures.
"When you don't know people, your opinions are formed by things like movies, articles and magazines. But there is nothing better than you being in the forefront of that interaction yourself, people to people. All the stereotypes disappear."
"I always say to people that this wonderful 166 sq miles where we live cannot be measured by the size of the country, but has to be measured by the size of the character of the people we have in this land. I would dare say that we are a set of people who can reach out and build bridges and not walls," King explained.
Elson Gaskin, Secretary of the Central Bank of Barbados, said the Bank was committed to being apart of the festival and pledged their continued support.
"We at the Central Bank of Barbados have been associated with this festival almost from the beginning and we see it as an important part of our corporate social responsibility. Economically, they are a lot of parallels between the People's Republic of China and Barbados and as an institution, we believe there is much mutual benefit, a platform for the exchange of economic and developmental ideas, hence this continued corporation, which we hope will continue into the foreseeable future," he said.
During the festival, Chinese and Barbadian cuisine with some Chinese twists proved to be very popular with those in attendance.
There was also an added push to expose Barbadians to different Chinese dishes, apart from the normal Cantonese foods they are accustomed to. Thus, many foods prevalent in Northern China was on display.
Tanya Waterman, who attended the festival for the fourth time, said she was especially interested in the food as she was always keen on trying new dishes.
"I'm quite adventurous when it comes to food and I was impressed with all I tasted at this year's festival. I like the effort put into all the dishes and I wish more Barbadians would come out to experience the dishes," she said. Another Barbadian, Judy Forde, who brought along three children, said following a visit to China early last year, she was intrigued by the culture and wanted to expose her children to it. "The Chinese culture is quite fascinating and I love this initiative with the festival. It gives me an opportunity to expose my children to different cultures and to broaden their horizons. The world is a big place and I would like them to experience it all," Forde said.
Speaking specifically to the festival, Forde summed it up as being 'simply amazing'.
"Everything was just beautiful. I was glad to see so many children taking part, the performances were amazing, the collaboration was fantastic, I loved it all," she added.