Exploring New Horizons in Caribbean-China Trade and Investment Relations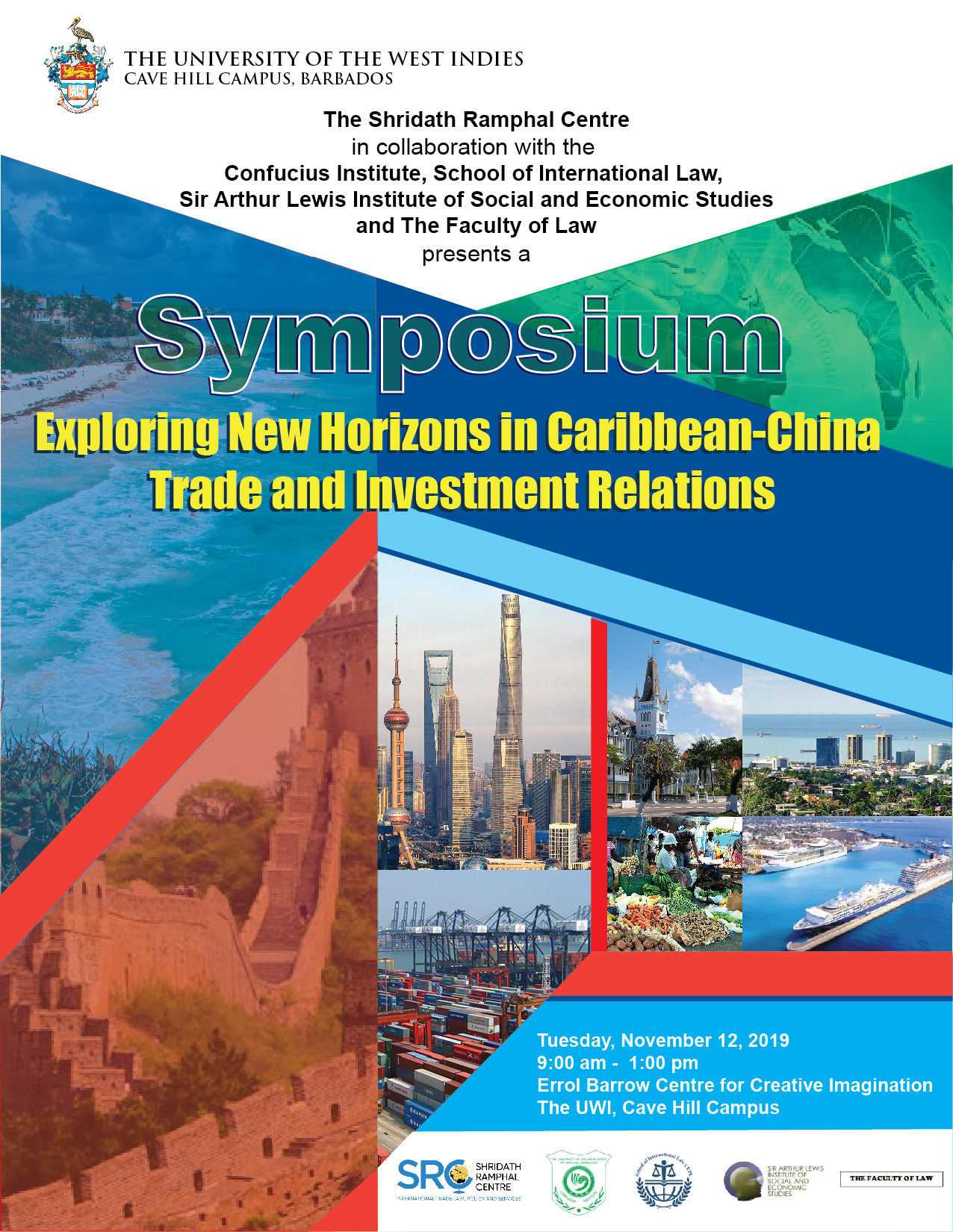 Infrastructure, Film Production and Gateways to Latin America Are Among the Possibilities for China-Caribbean Trade and Investment
The Symposium on "Exploring new horizons in Caribbean-China trade and investment relations", held at UWI Cave Hill on November 12, 2019, offered new insight on investment possibilities that are already in the public domain, as well as genuinely novel suggestions. Chinese investment interest in the Caribbean is at the forefront of discussion of potential economic links in many fora. Dr Richard Bernal of the UWI pointed out that China's Belt and Road Initiative comes at a time when there is a massive infrastructure deficit in the Caribbean. It has been estimated that Caribbean and Latin American countries have suffered significant loss of potential growth because of insufficient investment in infrastructure. Chinese finance, Dr Bernal pointed out, carries much the same commercial terms as other finance, but the Chinese finance is free of noneconomic conditions with which much Western finance is encumbered. China's motivation is to deepen integration into the global economy, increase exports of equipment and construction technology, and generate goodwill. All Caribbean governments with diplomatic relations with China have signed memoranda of understanding with China to make themselves eligible for finance. The major impediment now remaining is the limited borrowing capacity of many Caribbean countries.
Dr Trevor Carmichael, Queen's Counsel, pointed out that China is big market for Hollywood movies. He believes that Barbados can provide a niche service to take advantage of Chinese interest in areas of cultural curiosity with business development potential. His suggestion is for the creation of a Barbados film district financed by China, with sound studios, post production and editing studios, and teaching facilities, which could also add to the island's tourist attractions.
Both Dr Carmichael and Dr DONG Jingbo of the China University of Political Science and Law (CUPL) saw potential for new activity in the Barbados international business and financial sector, provided new  protocols are developed for administering the sector, in response to laws introduced by the European Union with respect to "economic substance". The Chinese government's concern is to prevent "round-tripping", where Chinese companies seek to evade Chinese exchange controls by channelling finance back to their own country via the Caribbean and other offshore locations. Despite the new laws, both Dr Dong and Dr Carmichael see continuing potential for the Caribbean, once appropriate protocols are put in place, because the benefits of offshore structures outweigh the costs of complying with the new regulations, and the new regulations apply to all the offshore locations with which the Caribbean competes.
Arrangements for dispute settlement is another area that may affect the attractiveness of an offshore centre to Chinese and international investors. In her contribution to the symposium, Dr YU Meng of the CUPL encouraged Caribbean countries to follow Singapore's example in issuing a memorandum of guidance on the regulation and enforcement of foreign judgments in their jurisdictions.
Dr LAN Hua's topic was climate change cooperation. In 2017 China announced targets for climate mitigation through projects to be financed by their climate fund. Dr Lan, who lectures at the CUPL, envisages fruitful areas for the Caribbean to take advantage of this opportunity for coastal zone governance to ensure green development along the coasts, and for technologies for disaster management systems.
Dr Don Marshall of the Sir Arthur Lewis Institute (SALISES) updated the meeting on China's policy initiatives to address perceived deficiencies in lending policies under the Belt and Road Initiative. The new measures increase the transparency of lending and include other improvements based on the lessons learned from the first five years' experience of the BRI.
Francois Jackman, Barbados' ambassador to the People's Republic of China, sees potential for Barbados to earn foreign exchange from providing financial services and niche products, as well as attracting Chinese tourists.
Connie Smith, Managing Director of Tricor Caribbean, sees opportunities for Barbados to promote itself to Chinese investors as a gateway to investment in Latin America. International firms may also find it beneficial to use Barbados as a conduit to access the Chinese market. Tricor is a business advisory firm headquartered in Hong Kong.
Dr Huan Zhu provided data on Caribbean trade with China, and Chinese investment in the Caribbean. Chinese trade with the Caribbean has grown exponentially, but from a tiny base. Barbados' exports to China have reached US$21 million. Chinese investment in the Caribbean includes a US$3 billion seaport in the Bahamas, and a new airport under construction in Guyana.
In the final presentation, Dr Helene Zamor of UWI stressed the importance of culture and language in facilitating trade and investment, and spoke of the initiatives underway at the UWI and the Confucius Institute to provide training in these areas. 
In his final remarks at the symposium Ambassador Jackman congratulated the organisers, and requested that they continue to provide policy makers with analytical studies and data on which to anchor future strategies for the Caribbean's journey to new horizons in trade and investment relations with China.